Workplace Accessibility Resources
Why does Accessibility matter?
Creating an accessible workplace benefits everyone.  When you design your internal processes, physical work space, and products to be accessible to all – you create opportunities.  Opportunities to recruit, accommodate, and retain diverse employees, support existing employees with disabilities or barriers, and attract a wide range of customers.  With new Government of Canada Federal Accessibility Legislation due in the Spring of 2018, there's no better time to develop the accessibility of your organization.  We're here to support you.  Read below for more information on the upcoming Accessibility Legislation, why it's important for your organization, and how CAES services can help you.
Services offered:
Psychological Health and Safety in the Workplace: assessment, review, recommendations
HR Audit: assessment, review, and recommendations of recruitment, accommodation, onboarding and retention policy
Workplace Accessibility Audit: full audit of accessibility of physical workplace, report and recommendations generated
Designing or changing physical environments, systems and interactions to meet the needs of everyone is what Universal Design and Accessibility are all about. You don't have to be an 'expert'. Accessing people with lived experience and being conscious and purposeful in the design process are the main requirements.
Sean McEwen
Even to this day, many employers hold some inaccurate ideas about accessibility or accommodations. In fact many employers often equate a large expense towards accommodating job seekers/employees with disabilities, with some thinking that stairs and doors are the only barriers to physically entering a building at a work site. Yet as managers, supervisors, co-workers, and community partners we all have a role in bringing the right to reasonable accommodations to people with disabilities in the workplace. Remaining flexible and utilizing creative thinking will be our greatest strengths towards workplace inclusion. What we all need to remember while addressing accommodations is that accommodations are afforded to all employees with or without a disability, that every person's experience of a disability is unique, and we need to focus on a persons ability, not on their disability.
Cal Schuler
Through the consultations, Canadians from across our country shared their personal stories—their challenges, successes, hopes and aspirations. I heard from youth who wanted equal access to education, I heard from parents with dreams of their children being self-sufficient and I heard from young adults frustrated with their ability to access public services. Yet there was one common theme: They each faced a barrier that limited their ability to be fully included.

I recognize that new federal legislation will not address every barrier that Canadians with disabilities face. In fact, many issues raised were beyond the reach of federal jurisdiction. I do, however, share the same hope and optimism of the thousands of those who participated on how the Government of Canada can be a leader with this new legislation and how this new legislation can bring about real change for Canadians with disabilities.
The Honourable Carla Qualtrough
Creating new federal accessibility legislation: What we learned from Canadians
(AccessAbility, Employment and Social Development Canada, Government of Canada, May 29, 2017)
Accessibility Legislation in the news:
"Legislation to improve accessibility for those with disabilities planned for spring" – Michelle McQuigge, The Canadian Press, CTV News (October 15, 2017)
"Canada's new accessibility laws should focus on employment, inclusive buildings, transport" – Michelle McQuigge, The Canadian Press, The Star (May 29, 2017)
"Canadians with Disabilities Act to focus on employment: minister" – Michelle McQuigge, The Canadian Press, Global News (February 5, 2017)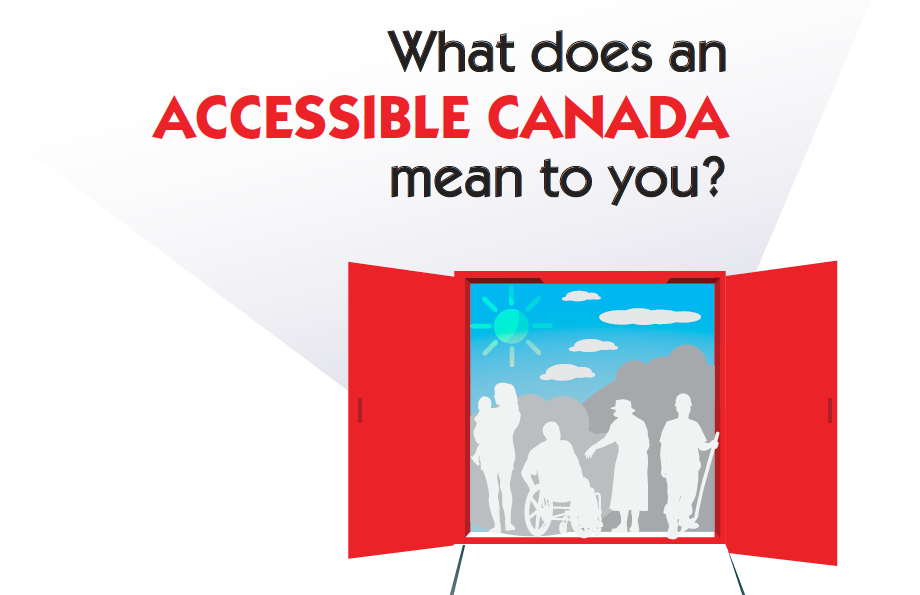 #AccessibilityFail
Sometimes there are really well intended accommodations made that fall a little short of the desired outcome.  We appreciate the effort, but sometimes you just need to have a laugh and learn from mistakes.  Take a look around, evaluate the accessibility of your surroundings, and share your #AccessibilityFail pictures with us by mentioning us @CAES_YYC or email to info@calgary-employment.ca
Book your FREE Accessibility Consult
There's no time like the present to get started on creating an inclusive and diverse workplace.  Contact us today to arrange your FREE Accessibility Consult.
Accessibility Legislation News
Follow along with the hashtag #AccessibleCanada for the latest Federal Accessibility Legislation news.