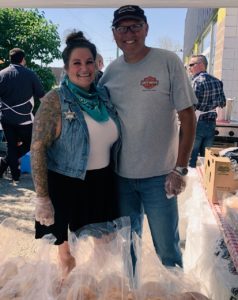 Community Futures Treaty 7, alongside Aboriginal Futures and Fat Systems, host what has become one of the best attended and well known Stampede BBQ's in the city of Calgary. I have volunteered for the past 10 years (Helping guide the food line as well as head hamburger or hot dog bun distributor) and I have seen it grow from a few hundred attendees to this year's jaw dropping 1100 plus attendees! Everyone from Mayor Nenshi, Stampede Royalty, the Indian Princess and this year Minister of Indigenous Relations, Richard Feehan stopped by for a bite. Armond Duck Chief brought his smooth country vocals to entertain the masses for the past 7 years, he brings the crowd to their feet tapping away to old and new country favorites. The menu is simple BBQ food with the addition of the mouthwatering fry bread brought to you by Aahksoyo'p Indigenous Comfort Food. This fry bread has people coming back for seconds and sometimes thirds!
What brings people of different cultures, ethnic backgrounds, religions and life styles together on a hot day in July? Sure it's a delicious free meal and the door prizes are always on point, but is that really why? When you come to this BBQ you feel welcome, welcomed by everyone. You are gathering with one another, sharing a meal, and building relationships. Gatherings of this kind help build a better community and provide an opportunity to learn about Indigenous culture.  I am always learning from my Niisitapi Elders as I travel on my journey of self-discovery. I asked Johnathon Redgun what word or phase I could use in Blackfoot to describe the gathering at the CFT7 BBQ, he shared with me:
"Iikoh kannoiskítsípahpyaóp we have a common Heart / one heart. One Elder said. In the early 2000's. He's the only one I ever heard use that term. Ítommanistsiiíkskapyaop – pull together – common effort."
Here's too many more years of breaking down barriers, gathering with one heart, and moving towards reconciliation by gathering with one another with one heart; Iikoh kannoiskítsípahpyaóp.
Can't wait to do all again next year,
Hi-hi
Jennifer