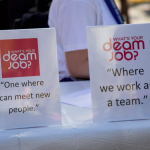 Last week the Calgary Employment First Network held the first Disability Employment Awareness Month Kickoff event. The Kickoff was exceptionally successful with Mayor Nenshi, Minister Sabir, several MLA's and Tom Jackson presenting at the ceremonies. Service providers and community members filled the open area and all were excited to participate in the official proclamation of DEAM.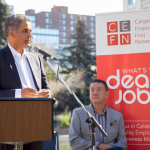 For far too long, individuals with disabilities have been marginalized and underrepresented in the workforce. DEAM serves to tackle these issues by bringing into the public eye the wealth of skills that employees with disabilities bring to the workplace. DEAM celebrates these diverse skills and helps to educate the community at large of the significant beneficial impacts inclusive employment has on all those involved. Diverse workplaces truly benefit each employee, management, and the community at large.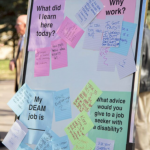 DEAM offers an opportunity for those engaged in inclusive employment to celebrate, and for those looking to become involved, connections with a large pool of talented candidates. The DEAM celebrations won't end here – we have several events planned throughout the month including the almost sold out Workplace Diversity Strategies Seminar on October 8, and the DEAM Save-On-Foods Cash Mob on October 23. Our DEAM event web page has all the details to keep you connected this month and will feature inclusive employment success stories all month long. Follow in our favorite Mayor's footsteps and get involved in DEAM today!