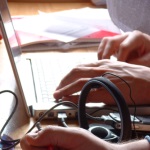 At the very successful NDEAM Breakfast Event held on the 28th of October, a very important observation was made by a member of the audience during the lively question period.  She reiterated the success inclusive employers enjoyed by having a diverse and vibrant workforce and the impact and contributions that were made on those businesses by the committed employees.  The speaker went on to say that it was very important for education and training to be made available to those workers who desired or needed further upgrading and instruction for diversity retention. The need was there, the speaker pointed out, for training and educational programs to be more flexible and accommodating in order to provide employees with the tools they needed to increase their potential and for employers to be able to access these programs when needed.
One very fortunate employee of Goodwill, a successful CAES candidate,  had the opportunity to take advantage of the support that an in-house training program can provide. The employee had mastered his duties but due to the nature of some of his work,  accreditation was needed to continue to perform the tasks. The vocational program provided the learning materials and on-the-job training within the work environment. With input from the Manager and CAES Career Consultant on the employee's specific duties and needs, and the commitment and hard work from the employee himself, a Fork Lift accreditation was attained.
Cooperation and collaboration between training/ educational programs and inclusive employers; that is the way to build employer capacity in staff retention with well trained and loyal employees.