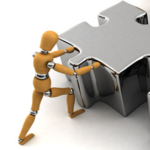 Throughout our promotional material, around the office, and in our conversations with community members you'll often hear us using the term 'inclusive employers'. What exactly is an 'inclusive employer'? Furthermore, how do you determine if an organization truly has an 'inclusive workplace'? According to the Equality and Human Rights Commission based out of the UK, inclusive workplaces are defined as:
An environment where everyone is treated with dignity and respect, where the talents and skills of different groups are valued, and where productivity and customer service improves because the workforce is happier, more motivated and more aware of the benefits that inclusion can bring.
Inclusive employers are those that champion theories, policies, and workplace practices that serve to develop and maintain environments such as this. CAES is proud to partner with several Calgary business leaders who have made it their priority to foster inclusive workplaces. These employers have championed diversity within their own workplaces by promoting and implementing inclusive recruitment and hiring practices, providing customizable and flexible onboarding and training, and promoting a supportive and accommodating workplace culture. These practices create environments that benefit all employees and create businesses that community members are proud to support.
We are proud to say that Community Natural Foods exemplifies the qualities of a truly inclusive employer. Community Natural Foods has shown a sincere commitment to promoting diversity and inclusion in the workplace. During our business partnership with CNF, CAES has seen first hand that Community Natural Foods is a workplace where each individual is deeply valued for their unique background and skill set. CNF has fostered a culture of respect, inclusion, support, and community spirit; all qualities that contribute significantly to their ongoing success. CAES is excited to have the opportunity to recognize this inclusive employer and hope that you will join us between 2:00-5:00 pm on Friday September 19th at our Cash Mob of Community Natural Foods to celebrate their contribution to inclusive workplaces and inclusive communities!
CAES is here to support Calgary businesses seeking to create more inclusive workplaces. Contact us today to become an inclusive employer!