Through my participation on the Calgary Airport Authority's (CAA) Accessibility Advisory Council, I nominated the CAA and their YYC LINK Passenger Shuttle for the Ella Anderson Accessible Transportation Award, with the City of Calgary Advisory Committee on Accessibility Annual Awards Program.
The Ella Anderson Accessible Transportation Award celebrates an individual or group that emphasizes making public transportation more inclusive in our community. This award was created in memory of Ella Anderson, who served on the Advisory Committee on Accessibility with grace, style and commitment to people with disabilities. Ella's positive attitude and willingness to go above and beyond helped to shape a more inclusive, customer-focused public transportation service. On December 11, 2017, the Calgary Airport Authority accepted the Ella Anderson Accessible Transportation Award.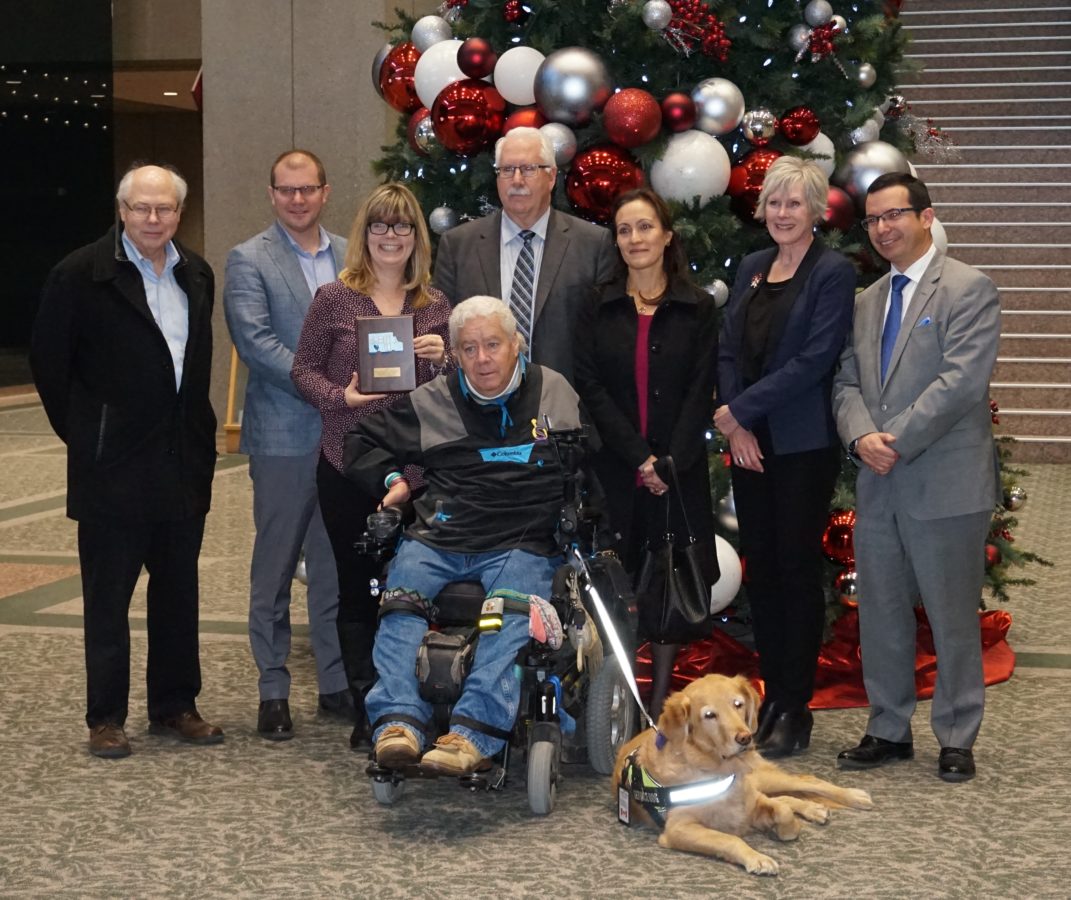 The YYC LINK Passenger Shuttle is a one-of-a-kind, universally accessible compact transit system which offers an unforgettable experience when traveling through the Calgary airport. The system consists of custom designed electric vehicles operating in a dedicated route that links all domestic and international concourses. It is available as a post-security courtesy service for all passengers that need to transport within the terminal. To supplement the project team's experience in developing this system, they reached out to the community and invited the YYC Accessibilities Committee, where I am a member, to join the team. Through an iterative and collaborative design process, we developed not only the multi-modal route, but the shuttle vehicle as well.
Cal Schuler of Calgary Alternative Employment Services has worked with the airport for many years on its YYC Accessibility Advisory Committee and nominated The Calgary Airport Authority for their work on developing the YYC LINK through a very consultative and collaborative process.

"Through teamwork and positive drive towards a common goal, we created an environment based on universal design, where visitors to the airport regardless of age, ability or other differentiating characteristics can utilize and benefit from a transportation system that is comprehensive, seamless, safe, accessible, equitable and inclusive for everyone," said Schuler. "The key to the project's success was that the team worked very closely with a diverse group of internal and external stakeholders during the design and testing process to understand their needs and translate them into flexible system requirements from an operational and accessible perspective."