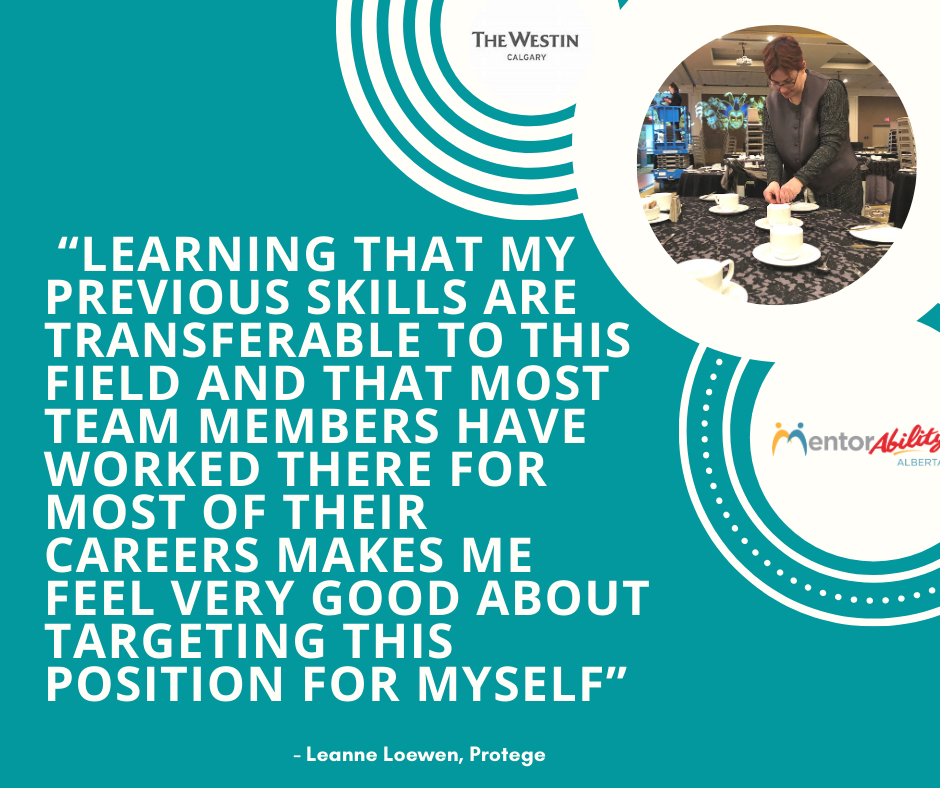 Leanne sought out employment supports after losing her previous job.
Due to a change in the specific job market that she had been targeting, she was unsure if her previous experience would transfer to the positions that she was now targeting.
Through MentorAbility, Leanne was able to attend a job shadow of a banquet server position at the Westin Calgary. Leanne spent an afternoon at the downtown Westin location where she was able to meet the food and beverage manager as well as the banquet serving team.
They provided Leanne with a lovely welcome and introduced her to the job tasks that a banquet server is to perform on shift. They then walked Leanne through the requirements for the event that they were currently preparing for: a 300 person dinner service.
After explaining the event, they then allowed Leanne to assist them in preparing for it. Leanne learned how to properly set the tables, how to make everything uniform and visually appealing. She learned tips and tricks on how to complete some of the tasks more efficiently and she even received feedback regarding her performance. Leanne learned that many of the banquet serving team members have been employed there for most of their careers, which made Leanne feel very good about targeting this position for her own employment.
Leanne learned that much of her previous experience will be useful and transferable in the banquet serving position, that she is skilled and a fast learner at the tasks involved that she didn't have any previous experience with. This was an incredibly successful MentorAbility experience and Leanne is now ready to start applying for the banquet serving position.