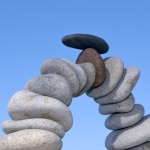 For those of us who've experienced unemployment, we know that it can be a stressful and jarring time. Even in a flourishing economy it can take around four to six months before landing an interview. With the added pressure of the holidays, maintaining mental wellness and self-care can be a challenge. Compounding these factors is the recent downturn of the Albertan economy, which has seen an unprecedented mental health crisis in its wake. According to the Canadian Association of Petroleum Producers, over 40,000 oil and gas sector jobs have been lost with fallout of near 100,000 jobs lost overall. The ripple effect of which has been an increase in suicides rates in Alberta, which is now up 30% since 2014.
It is very easy to get caught up in the severity of the situation and feel downtrodden due to the economy, especially if you are unemployed. The Canadian Mental Health Association states that an individual "…can experience some of the same feelings and stresses that you would if you were seriously injured, going through a divorce, or mourning the loss of a loved one." Staying mentally healthy and positive in the face of repeated disappointments, insecurity of income and uncertainty is certainly a difficult task.
At CAES we value mental wellness, and in the spirit of self-care we have some coping strategies that can help boost your confidence and manage your stress levels.
Time Structure: Your daily schedule once revolved around your work schedule. With that gone it is important to build and maintain a new routines. Include job searching in your daily tasks. Maintain a regular sleep schedule.
Self-Care: Going for a walk. Staying active is key to mental health. Eating healthy and consistently. Avoid drinking too much caffeine and alcohol.
Volunteerism: Creating a positive impact in your community while creating new networks.
Contact Employment Resources: The local Canada Employment Centre, Calgary Alternative Employment Services, Alberta Works or other employment counselling services for information on programs in your community.
Connect with Family and Friends: Communities help sustain us during the difficult times. Avoid isolation by talking to those closest to you to help cope with your feelings.
If you are in need of extra resources for your mental health please contact the Canadian Mental Health Association – Calgary Region: (403) 297-1700 or the Distress Center's 24-Hour Crisis Line: 403.266.HELP (4357).