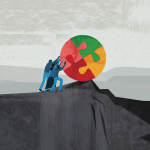 As I wandered though downtown Calgary, it was glaringly obvious that the economic downturn has had a overwhelming impact on our city. Everywhere you look where there was once a thriving business and parking lots full of vehicles there are now empty spaces. It's the talk of the town and in every lunch room or break room across our province many fear they may be the next casualties in the seemingly never ending recession. As a business it is without a doubt one of the most difficult times in the last 20+ years, and as tensions mount those fears are without a doubt having an impact on staff morale. Sadly in the day and age of technology our ability to instantly access various forms of media means that you are likely fighting an uphill battle. In an environment where only the strong and most resilient companies survive you need your staff to keep their heads in the game. When staff morale is in the dumps it is the equivalent to having an infection – a really bad one at that; and if not managed well that infection is going to spread and eventually grow rampantly out of control. It will eventually have a trickle down effect impacting things like production levels, loss time – due to illness (mainly mental health) and workplace injury due to inattentiveness and of course we can't forget to mention your bottom line. Like every infection it must be treated and I have just the prescription, don't worry there is no need to dip into your medical benefits for this one.
Px:
Celebrate! Even little successes in a big way. It is amazing how we so easily brush off the little things especially when we are trained and accustomed to closing the BIG deal. Also, don't forget what has already been built and accomplished. We are not where we are today without our efforts of yesterday. Whether it's renewing a contract or maintaining existing business, it shows that you are still doing something right and can help in increasing confidence.
It's BBQ season! Plan a BBQ, throw on some burgers and dogs, turn on some music and have yourself a little fun. If it is not in the budget it doesn't have to cost you a dime – did someone say "potluck". There is no better way that I can think of to showcase diversity than to have your staff bring in one of their favourite dishes.
Volunteer! Continue participating in community initiatives. This has a lasting impact on overall retention and staff morale. It is without doubt our demographics and the landscape is changing; people are shopping and accessing businesses that not only have great products or services but have a social conscience as well.
Last but not least, and perhaps in my opinion the most important – Communicate openly with your staff. If things are bad let them know, but also be open and let them know what you plan on doing to pull your company through this. Maybe it's a job sharing program, or turning to a 3 or 4 day work week. Keeping those potentially affected in the dark will only add to those fears. If this is the case it also gives them time to process and perhaps allow them an opportunity to turn off the money faucet and start pinching some pennies. This is also a great time to be innovative and seek recommendations from those on the ground on how to cut costs if need be. Open your door and meet with them. Those on the ground know what's working and what is not. If you are doing good, this is even better. Communication is ALWAYS the best policy.
While we are still in the thick of the recession, like others before it we will prevail. Diversity and collaboration lead to innovation; your employees come from diverse backgrounds and have much to offer in weathering a storm. Sometimes the answers to some of our most difficult questions lie within the structures and foundations already built.