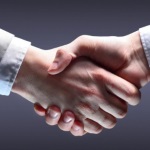 When Jessica came to CAES for assistance with job seeking, she had set her sights on a long term retail career.  In retailing, this can be hard to find.  Many companies have seasonal hiring and layoffs, so turnover can be higher than in other sectors.  Jessica hoped to find a position that was both challenging and rewarding and one that gave her more responsibility than working as a coffee shop helper as she had done in the past.
Together with the staff at CAES, she began researching the opportunities at the department store Bed, Bath & Beyond.  They discovered many perks including competitive pay, comprehensive health insurance, paid vacations and personal time off.  The company supports a Veterans program offering a 20% discount, a charity program that donates merchandise to hundreds of charities across Canada and a partnership with the organization Healthy Women, which promotes healthy families.  It was clear there is a lot to celebrate in working for Bed, Bath & Beyond.
The job search showed several job postings, but they still needed to determine whether these positions would last beyond the typical holiday hiring season.  Jessica and her CAES Job Developer set out to visit Cross Iron Mills and speak with staff about their experiences.  At the store they were received with knowledgeable, friendly people who really seemed to enjoy their jobs.  Many of them were also long term employees.  Jessica quickly decided to apply for a position and received her interview right away.  That interview was a successful one!  Jessica started as a cashier at Bed, Bath & Beyond in September.
During her onboarding, everyone realized how committed the company is to providing a supportive work environment that is fully diverse and inclusive.  Their culture fosters a belief that a diverse workforce contributes to a strong bond between their associates and customers, and it shows!  Jessica received one-on-one training with access to extra support whenever she needed it.  Her colleagues continue to offer her ongoing help and create a fun place to work.
Today, Jessica is optimistic about her dream of a long term career in the retail sector.  She has been part of their dedicated team for four months and is looking forward to the possibility of someday being promoted through the company's "promote-from-within" policy.
We celebrate diversity and believe that our diverse workforce contributes to the strong bond our associates have with our customers. We also believe that our commitment to diversity and the outstanding opportunities for professional and personal growth we offer to all associates, regardless of background, contribute to the extraordinary high associate retention rate that we have long enjoyed.  (Bed, Bath & Beyond Employment Equity Policy)
The continued growth and expansion of this group of companies is no doubt attributed to a culture that fosters individuals.  Congratulations to Bed, Bath & Beyond for championing workplace diversity and inclusive workplaces!