My col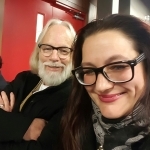 league and I were fortunate enough to attend The Van Horne Institute's 'Diversity in Supply Chain Management' Career Fair held here in Calgary.
We work as Diversity and Engagement Consultants for CAES, so we were excited to have a great opportunity to see what Supply Chain management is all about, what kind of Diversity strategies are utilized in this field, and which jobs are available in supply chain.
In the morning we attended presentations from two oil companies, who in brief explained what diversity means to their employers. A lot of strategies involve focusing on the hiring of immigrants and women.  There was also a panel of HR representatives and employers, as well as students, speaking on how to apply for jobs in supply chain and how to catch the employer's attention.  At the end there was a video that was shown to everyone that explained what diversity may look like in a supply chain and logistics work place. This video was the first time that people with disabilities were mentioned as being a pool of potential employees.
This focus on diverse candidates had me questioning "what does diversity mean to you?". What does it mean to employers, service providers, and the community as a whole? Diversity can mean many things, its most simple definition is "the state of being diverse".
It was disappointing to note that persons with disabilities were not mentioned until the end of the presentation. For those of us who work in the field we know that having a diverse workforce includes immigrants, women, Indigenous people and individuals who identify as having some sort of barrier (persons with disabilities) to employment. This would seem to include almost everyone. Coming off an extremely successful DEAM (Disability Employment Awareness Month ) in October – I am excited that employers are widening their perspective on what diversity is and how they can start to be inclusive in their hiring practices.  It is obvious that our role is to ensure that all population groups are included in Diversity Strategies so that diversity practices do not become exclusionary. Hopefully presentations such as this and events such as those hosted throughout DEAM, will continue to provide opportunities for greater discussion about diversity in the workplace.
The CAES team always welcomes community input and feedback, please share with us "What does diversity mean to you?".